Keeping Your Sprinklers Repaired and Maintained
The Benefits of Sprinkler & Irrigation Maintenance
Keep your lawn healthy + green!
Unhealthy lawns are blighted with dead grass, dirt, and bald spots and your deteriorating lawn can have gaps that open space for weeds, adding to the lawn's sickly, unhappy look. A well-cared-for lawn is beautiful and pleasing to look at.
An irrigation system provides regular, consistent watering to your lawn, which is especially important in warm, sunny weather when the soil can dry out quickly. A professionally installed sprinkler system will help in keeping your lawn healthy + green, but checking your system for leaks or broken sprinkler heads should be part of an ongoing maintenance program.
How Much Water Does an Irrigation System Use?
When you water by hand, more than 50% of the water is wasted through runoff or evaporation. Automatic irrigation settings can help reduce your water usage. The system will automatically turn the water off when the irrigation process is complete, which can help you conserve water. Additionally, the system can "hide" issues that you might not otherwise notice, such as a slight leak or a finicky pressure valve. With regular sprinkler system maintenance, our experts are trained to look for these issues and provide timely solutions.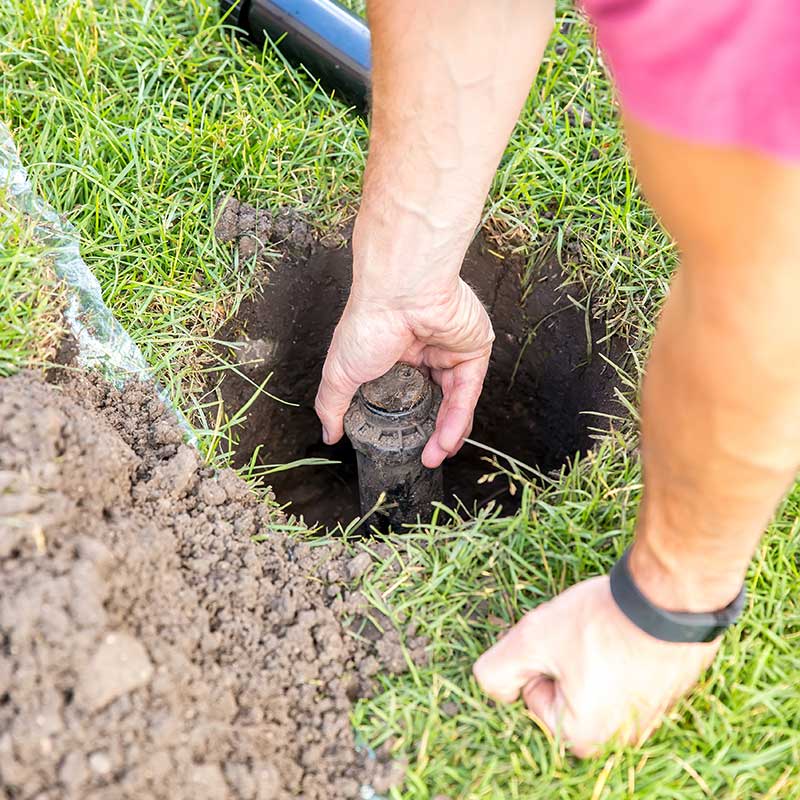 Irrigation experts can help ensure your irrigation system runs smoothly and efficiently. An annual maintenance plan can help keep your sprinkler system in good shape and save you money on your water bill.
The amount of water needed to provide your lawn with one inch of water depends on the size of your lawn and how often you may need to water it. According to Today's Homeowner, to provide your lawn with one inch of water takes a little over half a gallon per square foot. That means that every 10'x10' area will require over 62 gallons of water.
It is also important to keep track of how much water your sprinklers are using. If there is a spike in your water bill, it may be that underground sprinkler repairs are necessary – which is why it's important to choose a quality sprinkler company you can trust and is available when you need home irrigation repairs.
Ready to find out more?
Reach out TODAY to schedule your regular sprinkler system maintenance! Our trained irrigation experts are ready to take care of your lawn.
Yearly Irrigation System Maintenance and Service Agreement
After your sprinkler installation, we can visit your property two to four times a year to maintain your new sprinkler system. We also offer discounted rates for additional visits. If you have an irrigation system, sign up for our Annual Service Agreement to cover any repairs and service throughout the year.